MSW Research recently announced the launch of a new DIY Research platform called Insight Rabbit. Of course there are other DIY Market Research sites so you may be wondering how Insight Rabbit is different from all the rest. I'm Doug Crang, Senior Director of Research & Analytics at MSW Research which is the power behind Insight Rabbit and I'm going to quickly go over some of the key features of the platform and how they make Insight Rabbit unique in the marketplace.
But first, you may wonder what exactly we mean by a DIY Research platform. Well, it is high quality research that you can manage completely on your own – from initial project design through receipt of results. Users simply choose from a menu of research methodologies; use a simple guided step-by-step process to customize the design for their brand and category; and go through a quick review and checkout process. The survey automatically goes live and the results, including insightful analytics based on MSW Research's 50+ years of experience, are quickly delivered via an online dashboard.
Now, let's get to those features.
Best-in-Class Methodologies: Insight Rabbit products are based on MSW Research concept screening, copy testing and tracking methodologies, which are used by a roster of marquee clients representing virtually every product category. The MSW Preference measure, leveraged in the Insight Rabbit copy testing and tracking solutions, is the only validated measure of brand preference available that predicts sales results. Quirk's said of the MSW Persuasion copy-testing measure… "This measure has been validated to actual business results more than any other measure in the business." In fact, this metric has been PROVEN to be more accurate at predicting advertising driven sales change than any other commonly used copy testing metric.
Unique Analytics: Insight Rabbit doesn't just give you a table of numbers to sort through. Rather, results are displayed in charts derived from analytical approaches which we've developed over many years and which are designed to bring insight and a deeper understanding of the survey results. These are backed by an insight guide which provides detailed explanations of the analytics underlying each chart.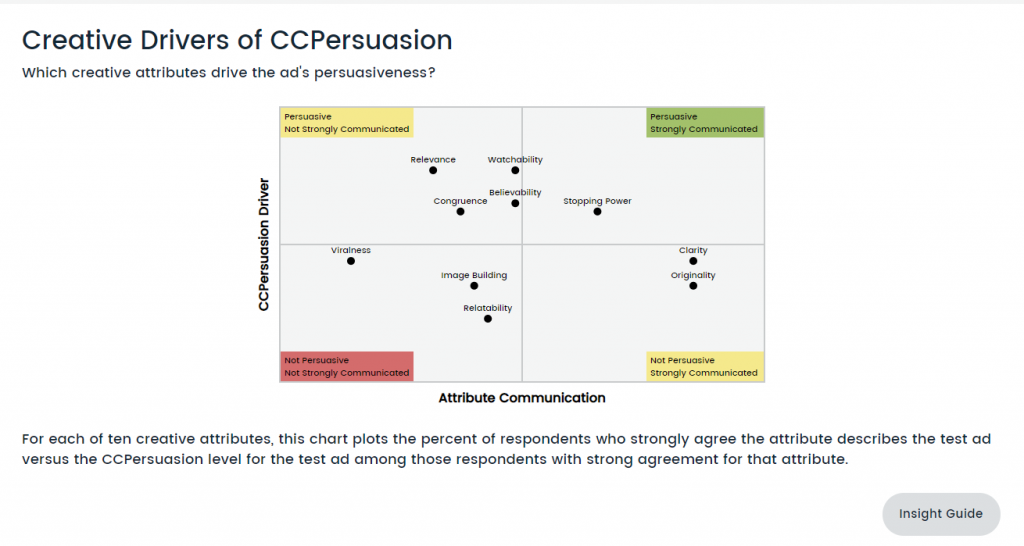 Fast Turnaround: Most projects will be completed within 24 hours of submission. In fact for all projects with less than 1,000 respondents and 20%+ screening incidence, Insight Rabbit guarantees a 24 hour turn-around after survey submission. What can you get in that time? Well, not only will fieldwork be complete, but your results will be posted in chart format on your personal dashboard and available for export as a PowerPoint document. Larger or lower incidence sample timing is per project, but usually does not take longer than 48 to 72 hours.
Easy: The Insight Rabbit user interface was designed to make set-up as fast and easy as possible. Our products follow standard, proven methodologies so the amount of information you need to supply is limited to customizing the survey to your particular brand and category.
Customizable: While Insight Rabbit products are based on standard methodologies, you will always have the opportunity, if you so choose, to add your own custom questions to ensure you receive all the information you require.
Affordable: Insight Rabbit solutions are less expensive than those from any other major online research platforms. In addition, we offer deep discounts for heavy research volume users through our Premier Account program.
Automated: Most Insight Rabbit studies are fully automated from set-up all the way through delivery of results to your dashboard. While human intervention on our side is not typically required, we are always available to help as needed.
Insight Rabbit offers standard solutions that span the entire breadth of your commercial communications process, from understanding your brand's category and its position in it; through concept screening; ad testing and optimization; in-market ad performance tracking; and periodic brand health checks.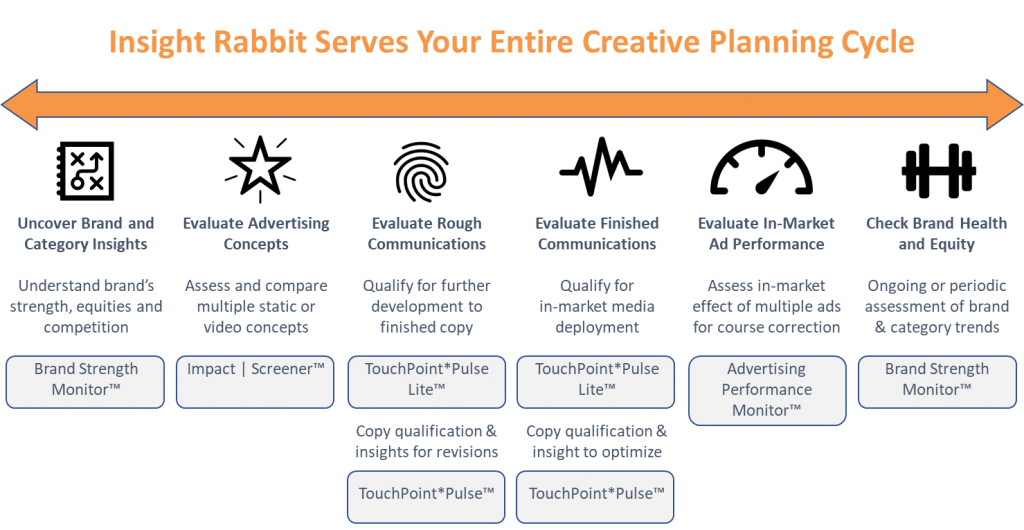 We will be covering each Insight Rabbit solution in some detail in future blog postings. But if you have any questions in the meantime, please visit www.insightrabbit.com or send us a note a hello@insightrabbit.com.